My name is: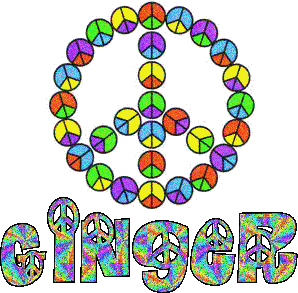 Note: I don't get on here much. Uh, sorry. Haha, I don't know whether to feel happy or guilty about having a life. Add me anyway though.
Let's gets these teen hearts beating faster, faster!
Sorry, got a little distracted. I like to sing while I do stuff. So...um... hello everybody that has decided to read this. Well, I might as well tell about my life. I'm not quite sure if its crappy or not. I'll let you decide. As I mentioned before, I'm Ginger. I hate my name, but I also hate the nicknames people give me. I'm 13. I'm a chubby redhead. I love music and white chocolate frozen capuccino. When I learn how to spell cappucino, I'll get back to you. I'm the one girl on this planet who doesn't enjoy shopping. Simply because I can never find anything I like, when I do they never have it in my size, and I just don't see the joys of walking around in a mall for hours to look at stuff I'm never gonna buy. I'd rather be at my house spending quality time with the Wii. I make most of my clothes. And I borrow t-shirts from my older brother. I'm straight, but I respect people who aren't. I'm also a vegetarian. My favorite bands include:
Led Zeppelin (the greatest band ever in the history of the entire fucking universe, the end, bye bye, period.)
Green Day
My Chemical Romance
Evanescence
The Ramones
Pink Floyd
Nirvana...
Hmmm, listing them all would be a waste of time and.... NAP TIME!!!!
zZzZzZzzZZzzzZZzzzZZzzZzzzZ
I love to write, and even though I never finish my stories, I hope to become an author. Then an artist. Then a drummer in a band. And finally a VIDEO GAME DESIGNER. Yeah, yeah, I know Erika, I've gotta actually finish the stories I start. But here's the thing: my imagination is just soooo..... oh I dunno..... imaginative, that everything I look at becomes a branch to a story I put in my head. And I create a story plot in my mind. Now think of getting story ideas every 5 minutes a day. I'm also very into photography, and if I get good enough at it, it may end up on that list you just read. Anyway, my two heroes are Gerard Way (and no, not just because he's hot) and Bob Bryar. My two favorite words are "fuck" and "rawr." You will probably hear me use them quite often.
We are the champions. We are the champions.
Sorry, I like Queen too.
Oh, one more important thing. I WAS BORN ON HALLOWEEN, THE SAME DAY AS FRANK IERO!!!!!! HOW FUCKING AWESOME IS THAT????????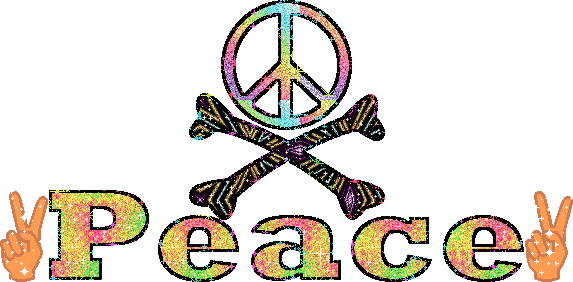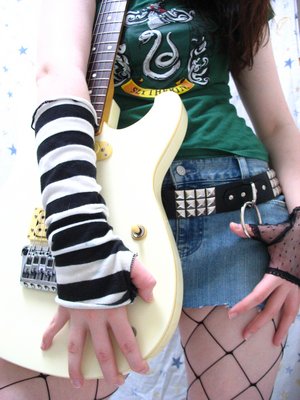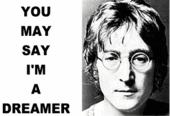 YES YES YES YES YES YES YES!!!!!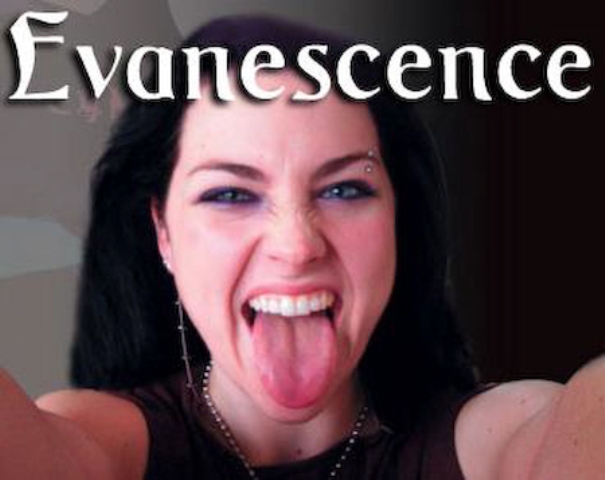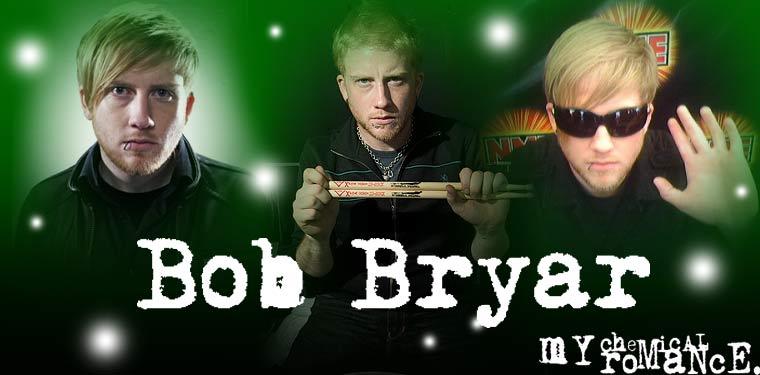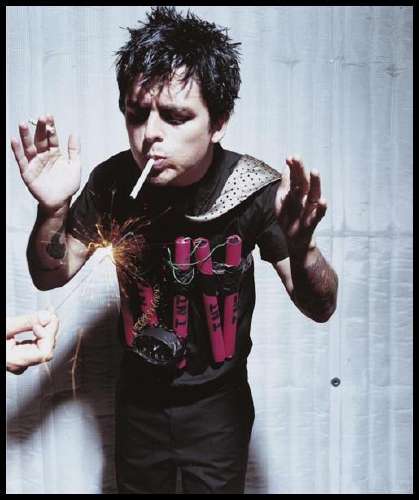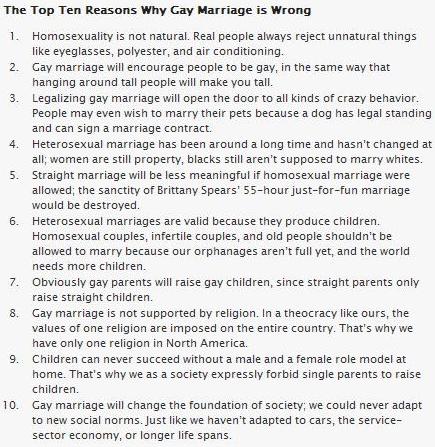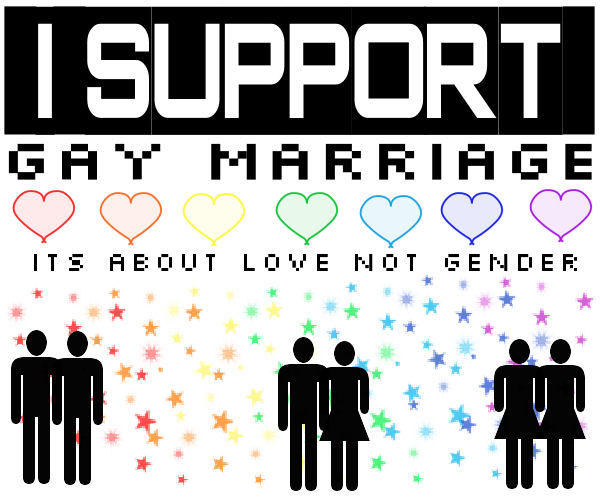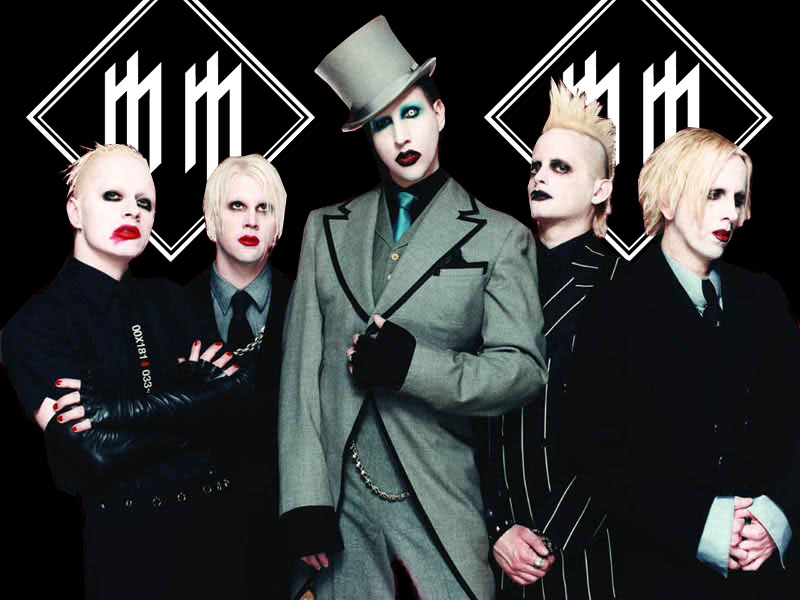 YOU! YES YOU! DO THIS NOW!!!
GERARD:
( ) You're born in April
( ) You've been addicted to alcohol and/or drugs
( ) You're a born leader
(x) You love drawing and you do it well
(x) You love singing
(x) You don't take sh** from anyone
( ) You're afraid of needles
( ) You call your friends with their last names instead of their names
( ) You've got siblings and you love them
( ) You're the oldest child
Total: 3
RAY:
( ) You're born in July
( ) You play the guitar
(x) You've got a scar on your head
( ) You can't swim
( ) You've got a FRO!!!
( ) You're 6'1"
( ) You're shy
(x) You wear contact lenses
( ) You're called mastermind or the quiet geneius
(x) People do/used to laugh at You
Total: 3
MIKEY:
( ) You're born in September
( ) You play bass
( ) You've got asthma
(x) You're near-sightened
( ) You wear glasses
(x) You feel an urge to stick a fork into a toaster
( ) You're seen as the lil kid/brother/sister of your family or mates
(x) You're the youngest sibling
( ) You're the skinnest in your group of friends
( ) You've put a heater IN the shower
Total: 3
FRANK:
(x) You're born in October
(x) You're the hyperest of your group
( ) You rattle on your guitar
(x) You're short
(x) You love tattoos AND piercing
( ) You're younger than all your friends
(x) You think homophobia is gay
(x)You mess with your friend's head
(x) You are seen as immature
(x)You always have a pair of fingerless gloves on.
Total: 8
BOB:
( ) You're born in December
( ) You don't talk much
(x) You're born in a different part of the country, according to your friends
(x) You hate people filming you
(x) You prefer cats to dogs
(x) You play drums
( ) One of your friends messes with your head
(x) You are constantly irritated with one of your friends (but I love 'em anyway)
(x) You're scary when serious
(x) You zone out a lot
Total: 7
I am most like Frankie! Woo!!! Hooray for hyper, born in October, short, immature, tattoo and piercings loving, homophobia is gay thinking, friend's head messing, fingerless glove wearing AWESOME people!!!! Oh yeah!!!!!!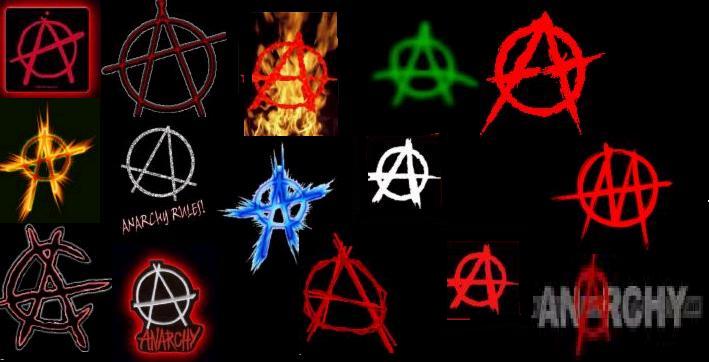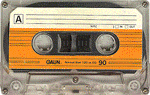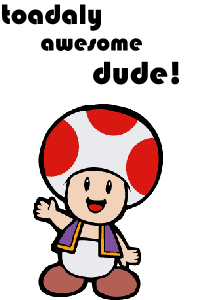 I am also a video game addict. Toad owns you.

Don't forget to leave a comment and add me before you go! Unless you're:
1. Racist and/or sexist
2. Homophobic
3. Someone who's going to give me shit about the stuff on my page
4. Avril Lavigne
If you are one of these things, then leave. Leave now.