Name : Sharrel
Age : 14 years almost 15.
Place : The netherlands
Sex : Female

Music : Everything that has 2 do with Punk and Rock iloveiit.
Favourite bands: MCR! TOKIOHOTEL LINKINPARK
GOODCHARLOTTE MUSE EVANESCENCE SIMPLE PLAN KORN RHCP! PANIC AT THE DISCO! and lots of more.
Favourite food : CANDY haha
Dislike: Fake people .
Loves : everyone that's love me and my friends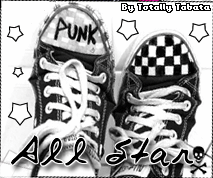 MY FAVOURITE SHOESS!
ps: are you a skater,punk,emo,rock girl or boy add me !
PSS: My msn is La.Punkstar@live.nl
Some avatars :