I'm Jade ...
I'm like 13 as you guessed by looking at my age – LMAO
I HATE having my photo taken I need like 50+ to like AT LEAST one of them ...
Erm I hate LOADS of things ... seriously ... like here's a list of them for you ...
Feet – absolutely hate them don't know why
Spiders – EW
Small spaces – not my fault I freak out
Annoying people who like ask you something again an again or say something again an again
MY BROTHER – nah i'm only messing love him really ... I spose ...
When I get told to turn my music down – DONT BE TO OLD THEN AN IT WONT BOTHER YOU
An thats about it i cant be bothered putting the rest their would be a HUGE list cause pretty much everything annoy me 
Things I LOVE – couldn't live without ...
MY PHONE ... I ALWAYS have to have my phone on me ...
Family – OVBIOUSLY – lmao
Friends – they are like my world love 'em all an don't know what i would do if anything happened to any of them 
BLUE – I LOVE the colour blue ... its awesome
Manchester United – also known as The Red Devils – love 'em my mate got me into them
Cristiano Ronaldo – Man Utd player SO HOT
MUSIC – would DIE without it ...
An loads of other things ...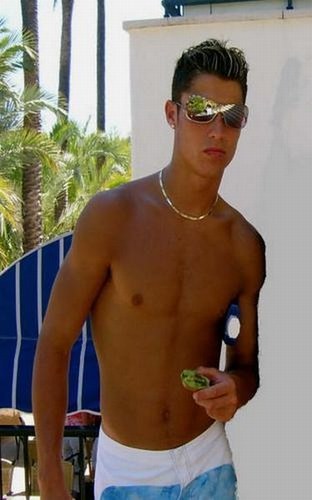 < Cristiano Ronaldo - SO HOT
Other Facts
I go to school – HATE IT
I LOVE animals they are so adorable
I have brown hair an bluey-green eyes (they change colour ITS SCARY)
I LOVE chilling with my mates like I already said ... like in the park or in my house or OUT anyway LOVE IT
Blue/red are my fave colours EVER – blue don't know just like it – red MAN UTD COLOUR
I'm SOMETIMES (hardly never) a quiet person it depends on my mood ...
I have good days an bad days (WHO DOESN'T)
What my ears have to listen to ... (poor them)
Guns 'n' Roses – Nickelback – Metalica – Avril Lavigne – The Frays – Snow Patrol – Coldplay – Chris Brown (so cute lmao) – Ne-yo – Linkin Park – Oasis – Kanye West – Fall Out Boy – Dance – Leona Lewis – Bloc Party – The Killers – Utah Saints – Tomcraft – Kasabien – Eminem – Akon – Evanescence – Chamillionaire – Pendulum – 3 Doors Down – All American Rejects – Base Hunter – Bon Jovi – Wiley – Bryan Adams – Red Hot Chilly Peppers – Rihanna – Timberland – Paramore – The Klaxons – Madonna (hardly ever) – The Hoosiers – One Republic – Girls Aloud – Scouting for Girls – 50 Cent – HIM – Ironik – Digga – Sia – Sam Sparro – Papa Roach – an LOADS more
Well thanks for looking an hope to upload some pics an stuff lol
BYE
<Cristiano Ronaldo