I'm a graphic artist. Creating webpages, web graphics and scripting is a passion of mine. I started back in 2000 creating webpages and then went on to more complex skills of web designing and graphic designing. I've worked with organizations, groups and web competitions lending my talents.
Another love of mine is creating personalized signature tags for e-mails, blogs, networking sites and other venues online. It is a hobby as well as free blinkies, graphic adoptables and mini stamps.
2004 marked the beginning of my one stop graphic shop online with lots of varied web graphics to use for free. All creations and poetry are by me, thus the name "byfelisa".
As I make more graphics for everyone to use, they will be uploaded and I will add a description of some of them in this profile.
For now there is an artist graphic animation called "Busy Creating" of the avatar you see above by my name. Feel free to use and much obliged.

I have an animated blinkie stamp - Protect Our Animals - Tiger.
It is to showcase the endangered situation they face right now.
It would be a honor if you could use the graphic to spread the word.

I'm offering the same blinkie stamp also as a sig tag only with the top words omitted so your name goes there, to be personalized for anyone who wants their name on it.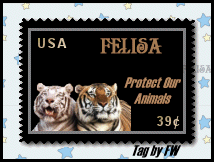 Just leave a comment below with the name you want on it and I will make one for you.
Please no long names or additional demands for the graphic it is small and not enough room.
Thank you for spreading awareness.

From time to time I will offer an animation for personalization and the same guideline applies to post a comment below with the name you like on it.
I do thank you for visiting and also using my uploaded graphics.
May you visit again real soon!
Have splendid and inspiring day!
Hugs, Felisa
This is my precious virtual pet that loves to be seen not heard and that guards my profile page. :)