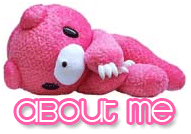 I have some trouble using English, but I'll do my best. I'm living in in America, I live in New York. I'm not telling you where in New York (That's personal). My grammar may not be that good, neither my spelling. >.> I'm japanese as well.
I'm into cute stuff, like "My Melody", I really like pandas!. I'm quite a fan in many anime show such as "Lucky Star", watashi mo ureshii yo! That's all I'm going to say until I think of more stuff about myself!
I almost forgot to add! My inspirations are BoA Kwon and Nana Kitade! <3 Sugoi!
Soreja mata!
それじゃ また!
I'm also a female.