Hey everyone... My name is Brandy, I am the mother of 4 kids, and a full time law student who should have her juris doctorite degree in business law next summer. I do graphics in my spare time to relieve stress that has built up from the day of screaming kids and bitching professors.
I recently found out that I had breast cancer, which added to that stress. Which means I am making alot more graphics now days... LOL... I do take some requests but not many... If you would like something made, even if it is something that I have not posted yet, give me a shout here and I will see what I can do. Thanks :)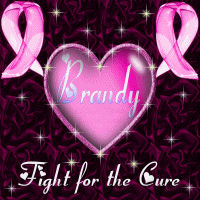 I am not feeling to hot at the moment, so I will not be around for awhile. Sorry guy! I will be back as soon as I feel better.
**************************
Just a lil note... You are going to see graphics by loopy on my graphics... That is what I go by when I make my graphics... Just so you are not confussed :)