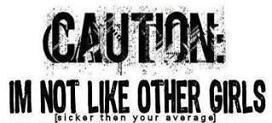 I'm immature & Getting old. My times running out. I dilly dally to much for me to be worth your precious moments. I can piss you off just as easily as I make you laugh. You should never believe what I say. I think rumors are the crack of the world. If everyone would listen to NeverShoutNever The would would be a better place. I would die without my phone. I make mistakes that ruin my life much to offten. I take a century to get ready for something that last's fifteen minuets. If your going to talk to me. Spell out your words. & DoNt TaLk LiKe ThIs. Cause that annoys the hell out of me.
Sinserly yours,
Death.

Favorit Song For Now_ Abandon Kansas- Minuets

Before you go to far,

Lets get a few things straight.

I don't believe in 'EMO'.

I think it's a stupid steryotype for kids that "say" they are always sad.

Seriously get over yourself && make somthing of your life.
So theres this guy named, Treye.
&&I dont think he understands
But everytime I blink.
I fall for him more
&& twice as hard as the time before.
No matter how mad I get at him.
Or how much he thinks I dont care.
I love him.

Things I Love.











Please dont try to start a fight with me.
Just because you don't like one of my graphics or something I say.
Doesn't mean I care.

I'll have different one's up everyonce in a while.