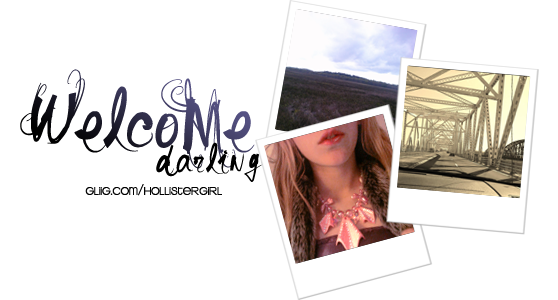 Love:
xx•єmσ•aηğєℓ•xx
xx•єmσ•aηğєℓ•xx
cнaιиsaw massιєĸur
cнaιиsaw massιєĸur
TreelessForest
amymont717
2ndPrincessCutiePie
2ndPrincessCutiePie
MermaidQueen85
MermaidQueen85
Past Loves:
LauraLush
Enchanted Emma
TreelessForest
xPanda_Rawrx
мєтн
Breeby
LaLaLove
MermaidQueen85
Love.Mania
A7xRica
LauraLush
LauraLush
I_Love_Snoopy
+ʙʀoκeɴ-ʙuʟʙ+
LauraLush
Always.
2ndPrincessCutiepie
HelloLexiKitty.
Angel♥Boo
Dorkalicious555
Always.
LauraLush
"I wont be on as much as before" What! Why?
I just have so much (too much) on my plate!
I have acting. I'm soon to meet with my, most-likely soon to be, manager in NYC. Then Im trying to earn my Gold Award. Right now I'm doing a patch on working with kids. So now I have babysitting jobs on top of it! :P
Contact: Hollistergirlmichelle24@yahoo.com
It's the best way to get a hold of me. I check my email a lot.
Why didn't you add me?
Currently: NOT accepting adds
Well, I can't add everyone who says "added you. add me back." I don't add right away. Talk to me! maybe I'll think you're cool and add you. :]
How do you make layouts?
You can create layouts by starting with a layout code and subbing in
color codes
(color codes usually are numbers ex. FF0000) and direct links for the text/tables/background exc.
You could go on a layout generator to learn how layouts work.
How do I upload layouts?
I'm currently accepting open layout uploads. If you want me to upload your layout, send the code of the layout, your username and preferably a screenshot of 200 x 135 pixels to hollistergirlmichelle24@yahoo.com Also, leave me a comment that you sent me a layout so I can get to it fast.
How can I be an Official Artist?
Well, you have to make a lot of graphics and layouts that people and of course, the mods and admins like. Willing to taking requests is important in becoming an Official Artist. The Glitter-graphics team then decides who they want to be an OA.
How can I be a Moderator?
Well, most mods were OAs first (like me). So read the above. Good Luck!
Programs I use:
Adobe Photoshop CS2
Jasc Animation Shop
FREE
Bye bye. Gotta run!