FIND ME ON FACEBOOK!!!







R.I.P. MJJ -heal the world-
Do you remember the time, when we fell in love?
Hold me like the river Jordan and I will then say to thee you are my friend
Half of me, will never be, so you should feel threatened by me!

Don't let yesterday's disappointments over-shadow today's goals.
A goal without action is only a wish.
"Love is in the air, breathe deeply and choke on it!" ~Heather Ann 2.14.07
"Third time pays all!" ~Schram
Dear Diary- Today I was beaten senseless by a wall...
"You can change your clothes, just don't let the clothes change you" ~Lisa Back 3.1.08
"I got kicked out of class today cos I ate my school work." ~Branden Sorenson 1.8.09
"That's how I wake up in the morning. I throw my alarm clock across the room!" ~Heather Ann
"Dogwood? ...sounds like dog junk." ~Cauldren
"It's called the morning!" ~Chris
"Ƭнɛ βƘ мαи ωακɛƨ ʋρ ιи ʏσʋя вɛ∂." ~Ɖɛяικ
"I can at least smell good for the... dustmites!" ~Heather Ann 2.27.09
"I'm Black too tho. The black is in my pants." ~Branden Sorenson 1.20.10
"Excuse me while I go throw up somewhere else." ~Cauldren 3.9.10
"Dreams are goals with deadlines." ~Manafest
"No, YOUR balls smell like sneeze!" ~Cauldren



My birth name is Heather...
But I go by Mango. Cos I'm cool like that :)
(ɐɯɐןן ʎq ǝɯ oʇ uǝʌıƃ) oƃuɐƜ ʎq oƃ osןɐ I
...if you mess with me, you'll regret it. I'm Irish and know how to kick butt!!
Check me out on youtube, cos I make videos every day!!
http://youtube.com/user/llamangoes4eva
I'm 100% hard-core Nazarene.
Full-time Christian.
I don't like swearing, it's only words that will bring everyone down.
˙uʍop ǝןdoǝd ƃuıɹq oʇ pǝǝu ou

You Are a Kogyaru!

If it's cute, you'll wear it. Fake and bake, hair bleach, and bright makeup line your bathroom cabinet.
As for clothes - anything that's short and cute ("kawaii!").
You are the prize object of all sorts of men - but you are really looking for a rich foreign guy.
He'll find you out hanging out in Shibuya shopping at the 109, text messaging and sending photos over your cellphone.
What's Your Japanese Subculture?
I love my friends. They're nuts.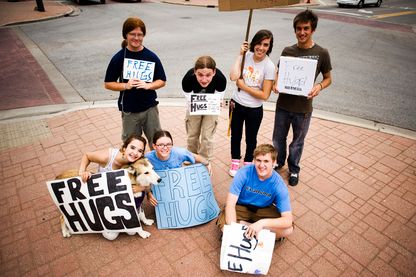 ...and if you hate me that freaking much, I really don't care.
Keep your opinions to yourself and leave me the cheese alone!
I like my life, and it'll stay that way!










>>>and DO NOT just add me to your friends list... it bugs me unless I really know you<<<

-God bless-