Quod Me Nutrit Me Destruit
Il faut souffrir pour etre belle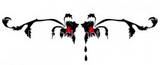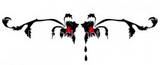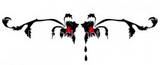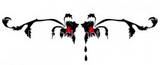 Heyy! I'm Domo and I'm pro-ana. I created a pro-ana website, shown in that blue box up there. I also have a serious obsession with scribble hearts. They are, like, my FAVORITE thing.

(: No haters please. I'm not someone you want to get pissy with. (:
<33333

why don't you see me,
why don't you care?
cause i'm right here,
waving my hands in the air.
why don't you notice,
why don't you ask?
cause on the inside i'm suffering,
behind a smiling mask.
starving for attention,
hoping for some one to see,
all the stuff i'm hiding,
that no one else can see

no one sees me, no one hears.
as i scream out all my fears.
im just not good enough to live anymore.
i deserve to die, pass out on the floor.
im not good enough for you, or any other.
not even my family; my sister or brother.
fade away; i must, i shall.
im just not good enough to take life in a brawl.

stop! i scream In my head
but still blood drips onto my bed
i wake up in a hospital
I know that i've lost it all
all the marks on my wrists
form patterns of painful twists
through the darkness a voice makes a slit
"im sorry but she's not gonna make it"
i suddenly feel so weak
as i hear the longest beep
i have come to decide
this is what i call suicide










THIN COMMANDENTS
1. If you aren't thin you aren't attractive.
2. Being thin is more important than being healthy.
3. You must buy clothes, cut your hair, take laxatives, starve yourself, do anything to make yourself look thinner.
4. Thou shall not eat without feeling guilty.
5. Thou shall not eat fattening food without punishing oneself afterwards.
6. Thou shall count calories and restrict intake accordingly.
7. What the scale says is the most important thing.
8. Losing weight is good/ gaining weight is bad.
9. You can never be too thin.
10. Being thin and not eating are signs of true will power and success.
Oh, and you can e-mail me at ohsnapitzdomo@gmail.com!!