I'm bearrie, actually I am just a newbie in making graphics or so whatever... I'm 10 years old and I'm grade five I live in Tagum City and especially I am a Pilipino...
and besides.....
my zodiac sign is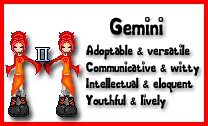 and um...
uh.........
add me on friendster
colleendejan@yahoo.com
add me also on multiply
aleenmdej.multiply.com
<note:make sure you are my relative or friend coz' if you add me and i don't know you i won't accept you!!!>
that's all!!!