Whats good my ninjaz and ninjettez?
My names Titz,Ima hardcore ass juggalette
Down with the clown till Im dead in the ground
Dat wicked shitz my life and if you hatin on the fam. you best be gettin yo stupid bitch ass of my page!!! I dont do labels FUCK ALL THAT MESS and if you think Juggalette-Juggalo is a lable your a real stupid ass mutha fucka!! I do what I want when I want,if you dont like it burn in hell 'cause I could give a fuck less what yo stupid ass thinks of me.MMFWCL to all my Ninjaz and Ninjettes out there! If yo Fam. hit me up MuTHA FUCKA!!! WHOOP WHOOP!!!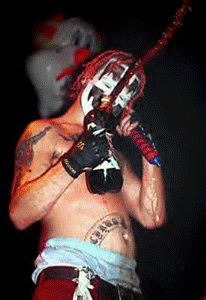 When I die show no pity
send my soul to the Juggalo city
dig my grave six feet deep
put two matche by my feet
put two hatchets on my chest
then tell my homies I did my best.
$Juggalos and lettes repost$