----------------Chace Crawford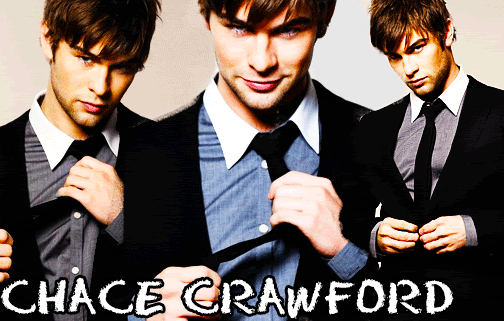 Chace grew up in Dallas, Texas. His father is a dermatologist and his mother is a teacher. He has one sibling,
a younger sister, Candice, who is studying broadcast journalism. Chace played football and golf in high scho
ol and is a talented artist. He graduated from Trinity Christian Academy in 2003. Although he worked as a m
odel in Dallas, he never pursued acting.He moved to Malibu,California to attend Pepperdine University after high school where he was a member of the Sigma Nu fraternity. He struggled to identify a career path, vacill
ating between advertising, business and communications majors. Midway through his second year his mothe
r encouraged him to pursue acting. He credits her for initiating this bold move. She states that "it was a pract
ical move," based on career aptitude test he had taken in high school which revealed he was best suited fora
career in the performing arts. He was signed by the first talent agent that interviewed him and then committe
d full-time to acting studies. Chace now plays 'Nate' in the tv series "gossip girl".&lemme tell you, this guy is one HOT bomb. LMFAO like actully<3 Bhaha. Kk. well i'm currently accepting adds, so hit me up. Comment?