Hi!

My name is Brittany Miller. I am the lead singer of my girl band named "The Chipettes". I am dynamic, ambitious, fearless and competitive. I care a lot for my sisters Jeanette and Eleanor. Jeanette is the smart and clumsy one. Eleanor is the sporty and likes to cook one. Three other close friends of mine are Alvin, Simon and Theodore. Alvin is the big-headed one. Though I must admit is rather cute and is my on and off boyfriend. Simon is the smart and witty one. Theodore is the sweet and kind one. Later everyone! Brittany Miller xxx
(Please Note: Brittany is a fictional character that belongs to Ross Bagdasarian and Janice Karman. And this glitter-graphics is just a Brittany roleplay played by yanncookie@hotmail.co.uk)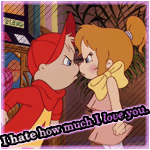 Who are the Chipettes?: The Chipettes are a fictional group of anthropomorphic chipmunk singers that first appear in the cartoon series "Alvin and the Chipmunks" in 1983. They are female counterparts for the chipmunks who are sometimes competing or dating.
Who is Brittany?: The unofficial leader of the Chipettes. She is vain, selfish, materialism, has a notoriously short fuse and is the dazzleing star in the center of her own universe.
http://uk.youtube.com/BrittanyMiller932
NOTE: Hey, I don't really come on here no more as all my Chipmunk Role-Playing friends have somehow disappeared. But I'm always willing to come back if anyone is in need of a Brittany. - 2nd, Jan, 2012.