COPY AND PASTE WONDERS OF THE WORLD
♥♥♥♥♥♥♥♥♥♥♥♥♥♥♥♥♥♥♥♥♥♥♥♥♥♥♥♥♥♥♥♥♥♥♥♥♥♥♥♥♥♥♥♥♥♥♥♥♥♥♥♥♥♥♥♥♥♥♥♥♥♥♥♥♥♥♥♥♥♥♥♥♥♥♥♥♥♥♥♥♥♥♥♥♥
If you're a proud stalker and obsessed love-struck fan-girl of Edward Anthony Masen Cullen, copy this into your profile.
♥♥♥♥♥♥♥♥♥♥♥♥♥♥♥♥♥♥♥♥♥♥♥♥♥♥♥♥♥♥♥♥♥♥♥♥♥♥♥♥♥♥♥♥♥♥♥♥♥♥♥♥♥♥♥♥♥♥♥♥♥♥♥♥♥♥♥♥♥♥♥♥♥♥♥♥♥♥♥♥♥♥♥♥♥
If you have ever been so obsessed with something that now everyone is scared of you because of its effects copy this into
For me, crazy is a loose term. Crazy is when you stare at a pencil and laugh when someone asks you what you are doing that is so interesting about the eraser. Crazy is when you have an hour-long sob fest, and then start singing and dancing when your favorite song comes on. Crazy is when you do or say a completely random thing, like "Do you ever wonder where the eraser bits go?" or having a thumbwar with yourself. Crazy is when you type up all your favorite sayings, print them off and tape them to your wall, just for something to do. Crazy is when you memorize the complete biographies and physical traits of every character in Twilight (or almost, at least). Crazy is when you write Emmett or Edward Cullen is hot on your homework insted of doing it. Crazy is when you fill up the tab seperators in your binders withe doodles/love notes/comfessions of love/any other Twilght related thing you can think of about Twilight or the Twilight characters. Crazy is when you can open up Twilight and know exactly which part you're at by reading one word. Crazy is when you print out copies of all the twilight series covers and put them on the wall of your closet. If you sercertly wish that neji or another other Naruto Character to come to your School and Set things *cough* straight. If you're crazy, copy this onto your profile and add something crazy you've done to the list!
Uh-oh, Kakashi got caught......poor Kakashi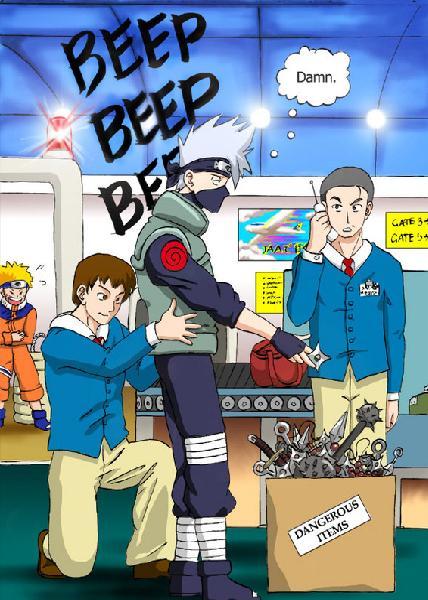 Team:
me
Creytell Intearoo, Electricity
Centret Hotaru, Light
Vanshi-Sensei
Best picture EVER:
*faints*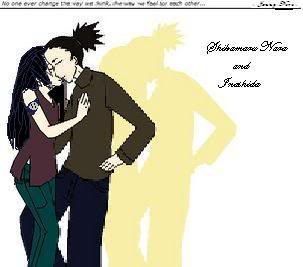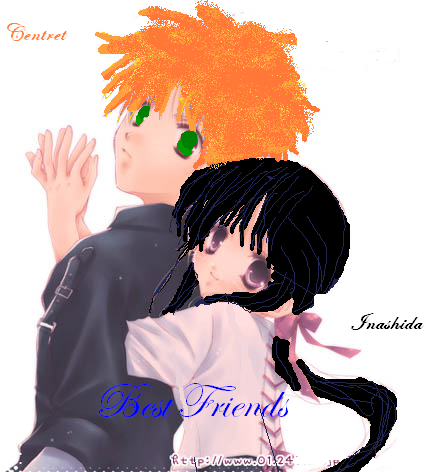 Me and Centret
Me and Creytell
RP Chart!
Character Name: Inashida Hietsama
Bithdate: August 11
Gender: Girl
Hair Description: Black
Eye Color: Teal
Personality: Spunky
Village: Village hidden in the Mist
Background: Grew up in the village hidden in the mist. Never was into that lady like stuff and was all about being like the boys. Even if it meant being better than the boys.
Status: Chounin
Likes: Laying in a warm field watching the clouds and wondering what it would be like to see everything from up there. Creytell and Shikamaru. Training with Vanshi-Sensei.
Best Friends: Centret, Shikamaru, Ino, Irakashi Totomaru
Good Friends: Neji, Hinata, Shino, TenTen, Choji, Sasuke
BoyFriend: Creytell
Family: Is Adopted
Mother: Shinta
Father: Valoric
Brother/sister(s): Akataru (actual) Tel (Adopted parents crippled son)
Justu: My Sword and Ice
Dislikes: School, work, other things.