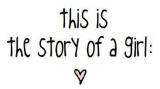 her namee is amberellen :)
she is not the brightest crayon
in the box
and if you got to know her
you would find that out.
.she is a little girl at heart with big dreams :)
and she would so almost anything for her friends
and family.
she wants to be in ny city :)

she loves photos with friends and sarah :)

and starbucks frappis (L)

meaningful song lyrics

hot summer days.. x

love stories (L)

i guess thats itt :D
BYEEEE !!